eBay Sales Maximizer
Increase your sales with the help of eBay Sales Maximizer. Get started today!
Benefits:
Increase sales
Offer smart promotions to encourage multiple purchases into a single order.
Get exposure
Promote marked down or special priced items as part of a sale or increase item exposure of offer eligible items in the Cross-sell module on the item page and on the new offer shopping page.
Lower shipping costs
Lower shipping costs and increase profit margins for consolidated orders.
Requirements:
Listings need to have immediate payment enabled. Learn more.
Listings must be eligible for Shopping Cart. Learn more.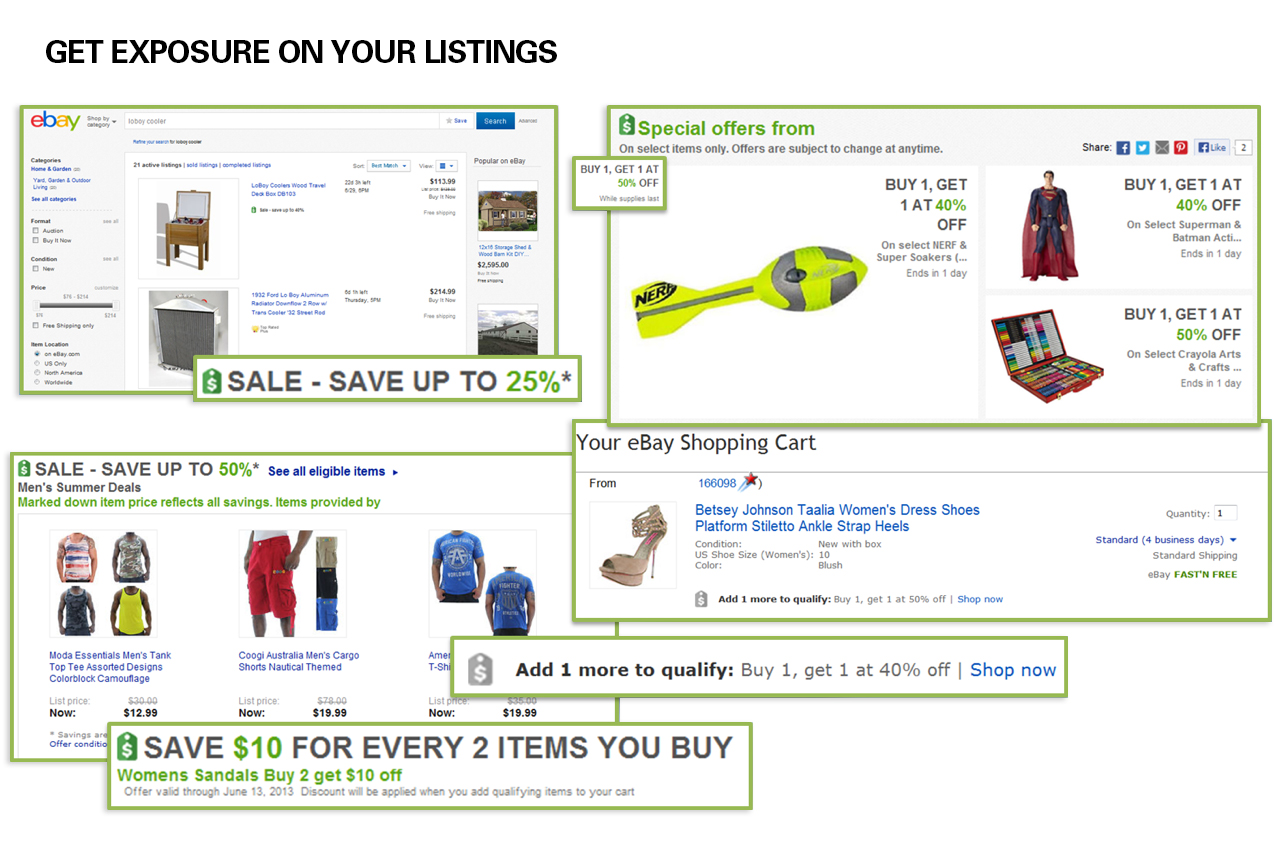 eBay Sales Maximizer Overview
With eBay Sales Maximizer you can set up 3 types of offers
1. Volume Offers to encourage buyers to spend more or add more items to their orders with a discount
Example offers:
Save $10 when you spend $100 or more.
Save 20% when you spend $100 or more.
Buy 3, get 1 of the items free.
Buy 1, get 1 at 50% off.
2. Related items offers to cross-sell additional related items (such as accessories) by providing an incentive offer
Example offers:
Buy a camera, get 10% off select accessories.
Buy a TV, get $25 off a Blu-Ray player.
Buy ink cartridges with your printer at no extra cost
3. Sale event offers to automatically merchandise reduced or special priced items on a "Sale page"
Example offers:
Save up to 30% on all women's Prada shoes.
Save up to 75% on all men's suits.
Save up to 40% on Star Wars Lego sets.
3. Conditional Free Shipping offers to automatically merchandise items that qualify for a promotional free shipping offer
Example offers:
Free shipping on orders over $100.
Free shipping on orders over $50 on at least 2 qualifying items.
Free shipping when you buy at least 3 qualifying items.